Skip to main content
It looks like you're using Internet Explorer 11 or older. This website works best with modern browsers such as the latest versions of Chrome, Firefox, Safari, and Edge. If you continue with this browser, you may see unexpected results.
Did you Know?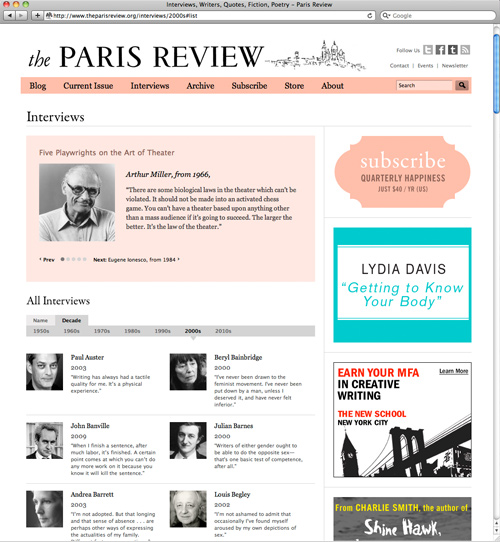 Paris Review Author Interview Collection
The Paris Review, a literary magazine featuring original writing, art, and in-depth interviews with famous writers, has placed its complete archive of author interviews online, from 1953 to the present.
Includes interviews with James Baldwin, John Cheever, Ernest Hemingway, Gabriel Garcia Marquez, Frank O'Connor, Katherine Anne Porter, John Steinbeck, and John Updike.
Locate Biographical Information
American National Biography

Access to portraits of more than 18,700 men and women, updated quarterly with new and revised entries, features thousands of illustrations, more than 80,000 hyperlinked cross-references, links to select web sites, and powerful search capabilities. Includes over 900 articles from The Oxford Companion to United States History, providing historical and social context to the biographies.

Dictionary of National Biography

Access to over 59,100 articles on notable people who shaped British history worldwide, from the 4th century BC to the year 2012. In addition to outlining a person's activities, character, and significance, each article also includes dates and places of key events, information on parents and spouses, and places of residence. One in five articles is accompanied by an image of the person who is the subject of the article.

Biography in Context

Provides biographical information on more than 528,000 people throughout history, around the world, and across all disciplines and subject areas. The database also provides full-text articles from over 350 magazines and newspapers and includes more than 27,000 images plus links to Web sites tied to the lives and works of the subjects.
Librarian
Elizabeth Parang
Course Description
"English 380, the short story, focuses on nineteenth and twentieth century short stories. We will read classic and contemporary examples of the short story from world literature (Irish, North American, British, German, West Indian), from ethnic perspectives (Native American, African American), and from male and female writers. We will practice the close interpretive reading, writing, and research skills necessary for the study of literature. Your study of the short stories will also serve as a context for considering historical and contemporary issues related to the assigned texts. In addition, you will be introduced to the major bibliographies, guides, and online sources involved in literary studies, and you will learn the research methods specific to the study and interpretation of literature."