Skip to Main Content
It looks like you're using Internet Explorer 11 or older. This website works best with modern browsers such as the latest versions of Chrome, Firefox, Safari, and Edge. If you continue with this browser, you may see unexpected results.
Did you Know?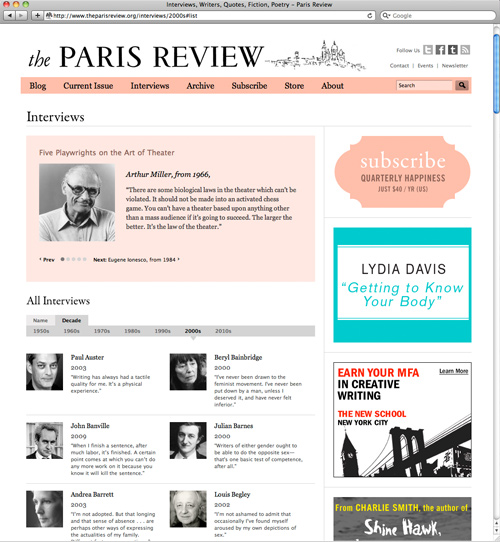 Paris Review Author Interview Collection
The Paris Review, a literary magazine featuring original writing, art, and in-depth interviews with famous writers, has placed is complete archive of author interviews online, from 1953 to the present.
---
British Novelists Archive Collection
The BBC is increasingly finding ways to make more freely available its vast collection of visual and aural content. The latest example of this is its British Novelists Archive Collection. This is a complement to a BBC TV series, In Their Own Words: British Novelists.
Browse the Stacks
Want to just browse the stacks? Browse the following sections for books related to English & American Literature:

PN 45-245 - Theory. Criticism. Authorship
PN 441-1009.5 - Literary History
PN 1010-1525 - Poetry (theory, philosophy, treatment of, etc.)
PN 1600-3307 - Drama (treatment of, technique, etc.)
PR 1-9680 - English Literature
PR 171-236 - Anglo-Saxon
PR 251-369 - Medlieval. Middle English
PR 421-488 - Elizabethan
PR 431-439 - 17th century
PR 441-449 - 18th century
PR 451-469 - 19th century
PR 1490-1799 - Anglo-Saxon Literature
PR 1803-2165 - Early English. Middle English
PR 2199-3195 - English Renaissance (1500-1640)
PR 3291-3785 - 17th and 18th centuries (1640-1770)
PR 3991-5990 - 19th century (1770/1800-1890/1900)
PR 6000-6049 - 1900-1960
PR 6050-6076 - 1961-2000
PR 6100-6126 - 2001 -
PR 8309-9680 - English Literature: Provincial, local, etc.
PS 1-3576 - American Literature
PS 185-196 - 17th and 18th centuries
PS 201-217 - 19th century
PS 221-228 - 20th century
PS 229-231 - 21st century
PS700-893 - Colonial period (17th and 18th centuries)
PS991-3590 - 19th century
PS3500-3549 - 20th century (1900-1960)
PS3550-3576 - 20th century (1961-2000)
PS3600-3626 - 21st century (2001-present)
Subject Guide
Elizabeth Parang
Cambridge History of English and American Literature
A comprehensive encyclopedia of English and American literature derived from individual print editions of The Cambridge History of English literature and The Cambridge History of American literature, published between 1907 and 1921. The Cambridge History contains over 303 chapters and 11,000 pages. Essay topics range from poetry, fiction, drama and essays to history, theology and political writing. The set encompasses a wide selection of writing on orators, humorists, poets, newspaper columnists, religious leaders, economists, Native Americans, song writers, and even non-English writing, such as Yiddish and Creole.
Available on Bartleby.com

Explore. Discover. Create.
24255 Pacific Coast Highway, Malibu, CA 90263
Phone: 310.506.7273
Copyright © 2022 Pepperdine University