Skip to Main Content
It looks like you're using Internet Explorer 11 or older. This website works best with modern browsers such as the latest versions of Chrome, Firefox, Safari, and Edge. If you continue with this browser, you may see unexpected results.
Librarian
Elizabeth Parang
elizabeth.parang@pepperdine.edu
Literature Specific Databases
Literature Resource Center

This link opens in a new window

Provides up-to-date biographical information, overviews, full-text literary criticism and reviews on more than 145,000 writers in all disciplines, from all time periods and from around the world.

MLA International Bibliography

This link opens in a new window

An index of journal articles, books, and dissertations, the electronic version of the Bibliography dates back to the 1920s and contains over 2.5 million citations from more than 5,000 journals and series and 1,200 book publishers. Coverage is international and subjects include literature, language and linguistics, folklore, literary theory and criticism, dramatic arts, as well as the historical aspects of printing and publishing.
British Periodicals

British Periodicals offers facsimile page images and searchable full text for approximately 500 British periodicals published from the 17th through the early 20th centuries (1681-1920). Topics covered include literature, philosophy, history, science, the social sciences and the fine arts: music, art, drama, archaeology and architecture. The collection includes over 5 million pages.
Wellesley Index to Victorian Periodicals, 1824 - 1900

This link opens in a new window

The Wellesley Index is an index to the authorship of articles, and a bibliography of articles written by each contributor, and using each pseudonym. Citations of evidence are provided to support attributions of authorship, along with brief biographical and vocational details. Forty-five important monthly and quarterly titles are indexed, covering the period from the beginning of the Westminster Review in 1824 to the end of the century. The Edinburgh Review is indexed from its first issue in 1802.

LitFinder

This link opens in a new window

Covering world literature and authors throughout history, LitFinder contains a wealth of literary works including over 150,000 full-text poems and 800,000+ poetry citations, as well as short stories, speeches, and plays. For those seeking a deeper view into literature, LitFinder also includes secondary materials like biographies, images, and more! From Shakespeare's sonnets to poems by Donald Hall or short stories from Edgar Allan Poe to works by Annie Proulx, LitFinder has you covered.
Multidisciplinary Databases
JSTOR

Access the journal archives Arts & Sciences I, II, III, IV, VI, & VII and over 40,000 ebooks on the JSTOR platform; book chapters and journal articles are cross-searchable. JSTOR is an extensive archive of interdisciplinary journals and books, covering subject disciplines in Arts, Business & Economics, History, Humanities, Law, Science & Mathematics, Social Sciences, and Religion.
Project MUSE

This link opens in a new window

Provides online access to the full-text of over 300 scholarly journals in the arts and humanities, social sciences, and mathematics covering the fields of literature and criticism, history, the visual and performing arts, cultural studies, education, political science, gender studies

Academic Search Complete

This link opens in a new window

Provides full text coverage to nearly 9,100 journals, including over 7,900 peer-reviewed titles in the social sciences, humanities, general science, multi-cultural studies, education and more. Full-text coverage dates back to 1985 and is updated daily.

Readers' Guide Retrospective 1890-1982

This link opens in a new window

Readers' Guide Retrospective contains comprehensive indexing of the most popular general-interest periodicals published in the United States and reflects the history of 20th century America. Current coverage for this database includes the years 1890 through 1982.
Did you Know?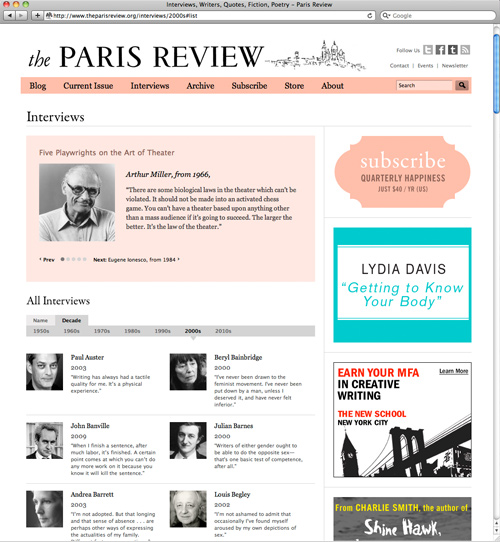 Paris Review Author Interview Collection
The Paris Review, a literary magazine featuring original writing, art, and in-depth interviews with famous writers, has placed is complete archive of author interviews online, from 1953 to the present.
---
British Novelists Archive Collection
The BBC is increasingly finding ways to make more freely available its vast collection of visual and aural content. The latest example of this is its British Novelists Archive Collection. This is a complement to a BBC TV series, In Their Own Words: British Novelists.
Browse the Stacks
Want to just browse the stacks? Browse the following sections for books related to English & American Literature:

PN 45-245 - Theory. Criticism. Authorship
PN 441-1009.5 - Literary History
PN 1010-1525 - Poetry (theory, philosophy, treatment of, etc.)
PN 1600-3307 - Drama (treatment of, technique, etc.)
PR 1-9680 - English Literature
PR 171-236 - Anglo-Saxon
PR 251-369 - Medlieval. Middle English
PR 421-488 - Elizabethan
PR 431-439 - 17th century
PR 441-449 - 18th century
PR 451-469 - 19th century
PR 1490-1799 - Anglo-Saxon Literature
PR 1803-2165 - Early English. Middle English
PR 2199-3195 - English Renaissance (1500-1640)
PR 3291-3785 - 17th and 18th centuries (1640-1770)
PR 3991-5990 - 19th century (1770/1800-1890/1900)
PR 6000-6049 - 1900-1960
PR 6050-6076 - 1961-2000
PR 6100-6126 - 2001 -
PR 8309-9680 - English Literature: Provincial, local, etc.
PS 1-3576 - American Literature
PS 185-196 - 17th and 18th centuries
PS 201-217 - 19th century
PS 221-228 - 20th century
PS 229-231 - 21st century
PS700-893 - Colonial period (17th and 18th centuries)
PS991-3590 - 19th century
PS3500-3549 - 20th century (1900-1960)
PS3550-3576 - 20th century (1961-2000)
PS3600-3626 - 21st century (2001-present)
Explore. Discover. Create.
24255 Pacific Coast Highway, Malibu, CA 90263
Phone: 310.506.7273
Copyright © 2022 Pepperdine University